Now that you're harvesting from your garden, now what?
You've spent all this time planning, planting, and growing your garden, and if you're like many gardeners, you may find yourself asking question like:
When is the best time to harvest a particular vegetable?
Do I wash everything first, or not?
Do I refrigerate it, or not?
Which veggies need curing first, and what does that even mean?
How do I prepare it for storage, whether that's short-term storage in my refrigerator until we eat it fresh, or long-term storage through freezing, canning, or dehydrating?
If I want to start preserving long-term, how do I get started with the bare basic recipes?
Whether you want to make the most of your fresh harvest, you want to make preserving a way of life, or you fall somewhere in the middle, I want to invite you to this beta launch of my newest online education experience: Harvest to Kitchen.
Come alongside me as I harvest, prepare, and begin to preserve the harvest in my garden this year! And learn how to do the same for your own harvest!
In Harvest to Kitchen, you'll learn:
The ideal time to harvest specific vegetables
How to prepare them for use (some have steps you take right in the garden)
Which vegetables need washed immediately and which do not because washing could increase spoilage potential
Basic preserving skills, such as water bath canning, pressure canning, freezing, and dehydrating
My go-to recipes for preserving
Which vegetables are covered in the course?
Immediately access lessons on lettuce, peas, onions, garlic, carrots, cucumbers, zucchini, and tomatoes (including salsa, paste, diced tomatoes, and sauce). In September 2020, green beans will be added.
In 2021, I plan to expand and add more vegetables as well as herbs and fruit -- and as a founding member, you'll be able to help me decide what to add!
If you're ready to make the most of the harvest you worked so hard to grow, join me in Harvest to Kitchen today!
Course Curriculum
Welcome
Available in days
days after you enroll
Lettuce
Available in days
days after you enroll
Onions
Available in days
days after you enroll
Your Instructor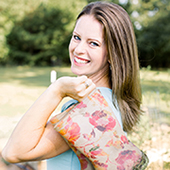 I'm Jill and I am a US gardener in Arkansas, Zone 7b. I began my first garden in 2013 as a new stay-at-home mom wanting to save money on our food.
As I poured myself into learning, I found myself frustrated with the lack of gardening information for newbies like me. Still, I fell in love with gardening over the years, and I made it my mission to help other beginners find more understandable, accessible, science-based information.
My goal is to help beginners learn to grow a rewarding, productive garden!
Frequently Asked Questions
When does the course start and finish?
Harvest to Kitchen is less of a linear path from beginning to end and more of a continual learning bank of resources at your fingertips. Access the crops you need to learn as you need them; skip the ones you don't. As new videos are added, you will be notified by email.
How long do I have access to the course?
You will have full access to all parts of the course, including updates, through December 31, 2021. In 2022, dates to be determined, you will have the option to continue accessing past videos as well as new course content with a yearly renewal fee of $29. THIS IS OPTIONAL. But the plan is to add new lessons and recipes each season -- mostly at the request of members. This new content will include new vegetables, fruits, and herbs not covered already as well as new recipes for vegetables, fruits, and herbs already discussed. This way, you will always have ideas that have been tested in my kitchen for you to try yourself!
What if I realize this course isn't what I needed after all?
We would never want you to be unhappy! If you are unsatisfied with your purchase, contact us in the first 30 days and we will give you a full refund.